Ausgebucht : Kuzushi Shibari by Zor and Margout
October 31 - 11:00

bis

November 1 - 18:00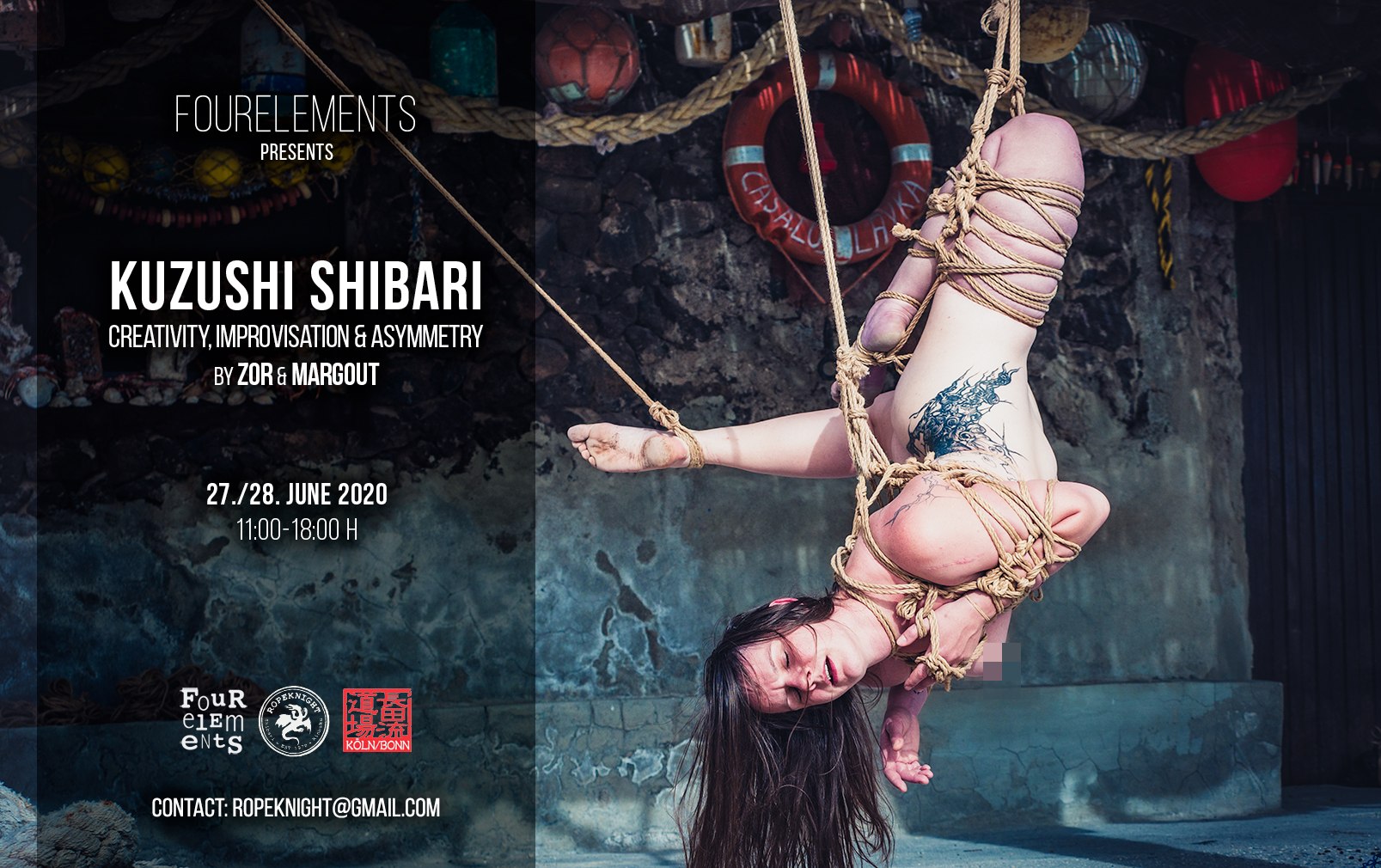 Kuzushi Shibari by Zor and Margout (2 days)
31.10 – 01.11. 2020
Jeweils von 11-18 Uhr
Workshop will be held in english language
——-
This workshop is aimed to be an immersion into our own style based on asymmetry, chaos and unbalance, or what some call it Kuzushi Shibari. For that, we will follow specific methods to develop and improve our creativity.
We will explore several different systems for tying without using patterns, that will be used safely both for floor and suspension play.
Each time we will adapt to the situation by arriving at a slightly (or completely) different solutions to the same problem. This will allow us to achieve a unique aesthetic each time, but also improve communication with ropes that often become boring when riggers and models repeat the same pattern over and over again.
We will work goal-oriented (trying to build a structure for a specific purpose) and improvisation (adapting to the situation so that communication through the ropes takes priority over the initial idea). This will allow us to have a set of tools to achieve what we plan, but also to surprise our models and be able to continue our session when we find new opportunities.
During the workshop we will learn to self-evaluate what we are doing at different levels (safety, aesthetics, communication, weaknesses, strengths) and also learn to use creative methods to evolve and get better results.
We will also explore how to think 'outside of the box' by breaking some rules that will allow us to reach unusual results (tying with two ropes at the same time, tying new ropes to unusual points of the structure, using body parts as suspension points for other body parts and using ropes with different lengths and materials together, etc).
About us:
Zor Neurobashing has been learning shibari since 2005. He has studied with Haruki Yukimura, Akira Naka, Kazami Ranki, Kasumi Hourai, Osada Steve, Ren Yagami, Riccardo Wildties, among other masters. He has worked as a rigger for adult film production companies in many occasions, such as Kink.com, Public Disgrace, DDF, House of Taboo or Eroteric, among others. He is co-founder of Madrid Peer Rope and founder of Madrid Shibari (http://www.madridshibari.com/). He has extensive experience as an educator, not only in Shibari, and has been a presenter several times at the Eurix in Berlin, at the International Shibari Festival in Prague and at the Kink&Ropes festival in Stuttgart. He has offered workshops in different European countries in both Spanish and English on: kuzushi, creativity, safety, beginners, rigger-model communication, partial suspension, suspension, takate kote, shibari photography and sex-oriented bondage and adult video recording. His personal style has been defined many times as Kuzushi Shibari and is oriented towards creativity, improvisation and asymmetry.
Margout Darko is a rope model and rigger and has been in love with kinbaku since 2014. She has been working for years as an erotic and fetish model and has a solid background and knowledge in consent and BDSM practices. She believes that what makes a rope model great is having a good understanding of their limitations and needs, empathy, a good ability to communicate with their rigger and a desire to open up, surrender and tell their own story. In 2019 she was a model in one of Norio Sugiura's sets in Copenhagen. She has participated as a model in workshops and private lessons of, among others, Riccardo Wildties, Kasumi Hourai, Kazami Ranki and Yagami Ren and has taught in various workshops in Berlin, Stuttgart and Prague. She feels a special interest in classical styles that seek to generate an intense emotional and erotic exchange, especially Naka Ryu and Yumikura Ryu.
Voraussetzungen:
Der aktive Part sollte mindestens einen "intermediate Level" haben – also ein Grundlegendes Verständnis für Seil und Basisfesselungen anderer Stile.
Benötigt werden ca 11 Seile – 8 m
Eine Decke als Unterlage
Kosten:
330 € pro Paar
Zahlungsmodalitäten:
Nach Anmeldung erhaltet Ihr eine Mail mit den Zahlungskonditionen.
Verbindliche Anmeldung mit Zahlungseingang.
Im Falle einer Absage bis zu 4 Wochen vorher, erstatten wir Workshop-Gebühren zu 50%. Danach ist eine Rückzahlung leider nicht mehr möglich.
Es ist immer möglich einen Ersatz zu stellen der die technischen Fähigkeiten mitbringt die im Workshop gefragt sind.
Anmeldung und Fragen auch per Mail unter ropeknight@gmail.com